China Wholesale Marsh Funnel Viscometer Model MLN-3A manufacturers
China Wholesale Marsh Funnel Viscometer Model MLN-3A
Marsh Funnel Viscometer Model MLN-3A


1. Product Introduction of Marsh Funnel Viscometer Model MLN-3A
The Marsh Funnel is a simple device for indicating viscosity on a routine basis. When used with a measuring cup, the funnel gives an empirical value for the consistency of a drilling fluid. The number obtained depends partly on the effective viscosity at the rate of shear prevailing in the orifice, and partly on the rate of gelation.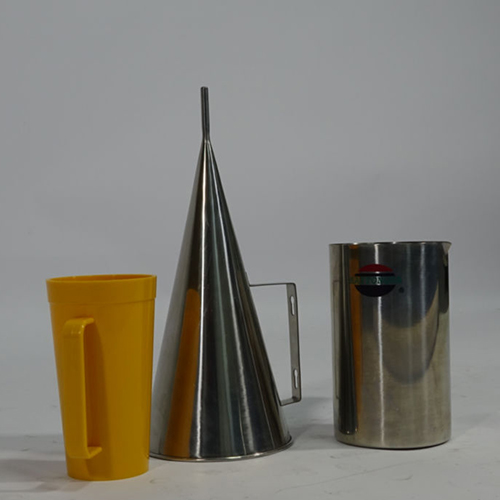 The Marsh Funnel Viscometer Model MLN-3 and MLN-4 are made of rugged plastic, Model MLN-3A and MLN-4A are made of stainless steel that resists temperature change deformation. The measuring cup, graduated in cubic centimeters and fluid ounces, is designed specifically for use with the Marsh funnel. This combination is used for making rapid, on the spot measurements of drilling fluid viscosity. The Marsh funnel readings are only general measurements, but the frequent reporting of the Marsh funnel viscosity will indicate changes in the fluid viscosity that could require corrective action.
Funnel viscosity is the ratio of the speed of the sample fluid as it passes through the outlet tube (the shear rate) to the amount of force (the weight of the fluid) that is causing the fluid to flow (the shear stress). Marsh funnel viscosity is reported as the number of seconds required for one quart of sample fluid to flow out of a full Marsh funnel.
In addition to the Marsh funnel, the viscosity measurement procedure requires a graduated container (measuring cup) to receive the fluid as it flows out of the funnel, a means to measure elapsed time (stopwatch), and a thermometer for measuring the temperature of the sample.
2. Product Type Specification of Marsh Funnel Viscometer Model MLN-3A
Model

Name

Configuration

MLN-3

Marsh funnel viscometer

With 2000ml Plastic liquid cup

With 946ml plastic measuring cup

MLN-3A

With 2000ml Stainless steel liquid cup

With 946ml stainless steel measuring cup

MLN-4

With 2000ml plastic liquid cup and stopwatch

With 946ml plastic measuring cup

MLN-4A

With 2000ml stainless steel liquid cup and stopwatch

With 946ml stainless steel measuring cup
3. Product Technical Specification of Marsh Funnel Viscometer Model MLN-3A
No.

Technical Specification

Model

MLN-3

MLN-3A

MLN-4

MLN-4A

1

Mesh size

1.6mm(12 mesh)

2

The volume below the criny

1500ml±15ml

3

Precision

When 1500ml standard distilled water was injected into the funnel, the outflow time of 946ml standard distilled water is 26±0.5s

4

Net weight / Gross weight

0.8kg/1.2kg

1.36kg/1.78kg

0.88kg/1.22kg

1.42kg/1.84kg

5

Overall dimensions

570×157×362mm

530×160×360mm

6

Packing size

385×205×230mm
4. Company Introduction of Marsh Funnel Viscometer Model MLN-3A
Wholesale Marsh Funnel Viscometer Model MLN-3A, the first choice is the professional brand of Marsh Funnel Viscometer Model MLN-3A manufacturer and supplier China Haitongyuanda. Our company is committed to the R&D and manufacturing of drilling fluid analyzer, oil well cement tester, oilfield laboratory integrated engineering solutions and experimental instrument maintenance services. Over the past 40 years, with the care and support of oilfield users, experts from various industries and engineers and technicians, our products and technologies have been tested by the market making. Haitongda special analytical instruments have grown to world-famous brands. Our company has researched and developed testing instruments needed in unconventional oil and gas resources, deep water, natural gas hydrate and intelligent drilling, and successively produced a variety of new products, such as ultra-HTHP rheometer, drilling fluid online testing system and deep water low temperature drilling fluid testing system, which timely met the needs of technological progress in the drilling industry. At present, we are providing quality services and practical products to more than 3,000 customers in more than 20 countries and regions around the world.
5. FAQ
1): Are you a manufacturer or a trading company?
A1: We are manufacturer.
2): What is your main brand?
A2: Our brand is Haitongda, which is famous in China and other nation. Also we do OEM.
3): What are your business scope and product classification?
A3.Business scope. Mud analysis instrument, electronic products, special instrument, mold design and manufacturing; Instrument maintenance and sales, import and export of goods and technologies.
Product classification including drilling fluid analysis instrument oil ell cement testing instrument and field overall solution, including 22 small categories and over 120products.
4): What is your MOQ for the order?
A4: Testers per 1 set.
5): What is the warranty period of your instrument?
A5: One year.
6): Can l get better offer if our order can be bigger?
A6: Certainly. We will give you better prices based on the quantity for your order.
7): What certificate do you have for your instrument?
Q7: ISO, SGS and so on.
8): What is your lead time for our order?
A8: For new order: 3 weeks.
For stock order: 3 working days after T/T. Based on FOB Qingdao.
9): What is your advantage of your factory?
A9: We are the original oil ministry designated drilling fluid analysis equipment manufacturer in China, which was founded in 1968.
10): What is the process to become an agency?
A10: Please send us mail enquiry, then we will reply you as soon as possible.
China Wholesale Marsh Funnel Viscometer Model MLN-3A suppliers
Wholesale Marsh Funnel Viscometer Model MLN-3A