China Portable Roller Oven Model GRL-BX3 manufacturers
China Portable Roller Oven Model GRL-BX3
1. Product Introduction of Portable Roller Oven Model GRL-BX3
Portable roller heating furnace with imported precision controller, using microcomputer intelligent control technology, direct setting, digital display, and deviation indication. The machine runs smoothly, with low noise, high precision, large working range, high degree of automation, simple operation, durable, convenient maintenance. Its working principle and performance are completely designed according to THE American API standard. The slow circulation speed of drilling fluid in underground circular space was simulated to study its characteristics of heating rolling. The temperature control of heating furnace uses the newest microcomputer intelligent control technology set the temperature directly and digital display the results. The deviation can be displayed to ensure high accuracy. The dynamical and electrical control system on the top body make the equipment easy to use, maintain and repair.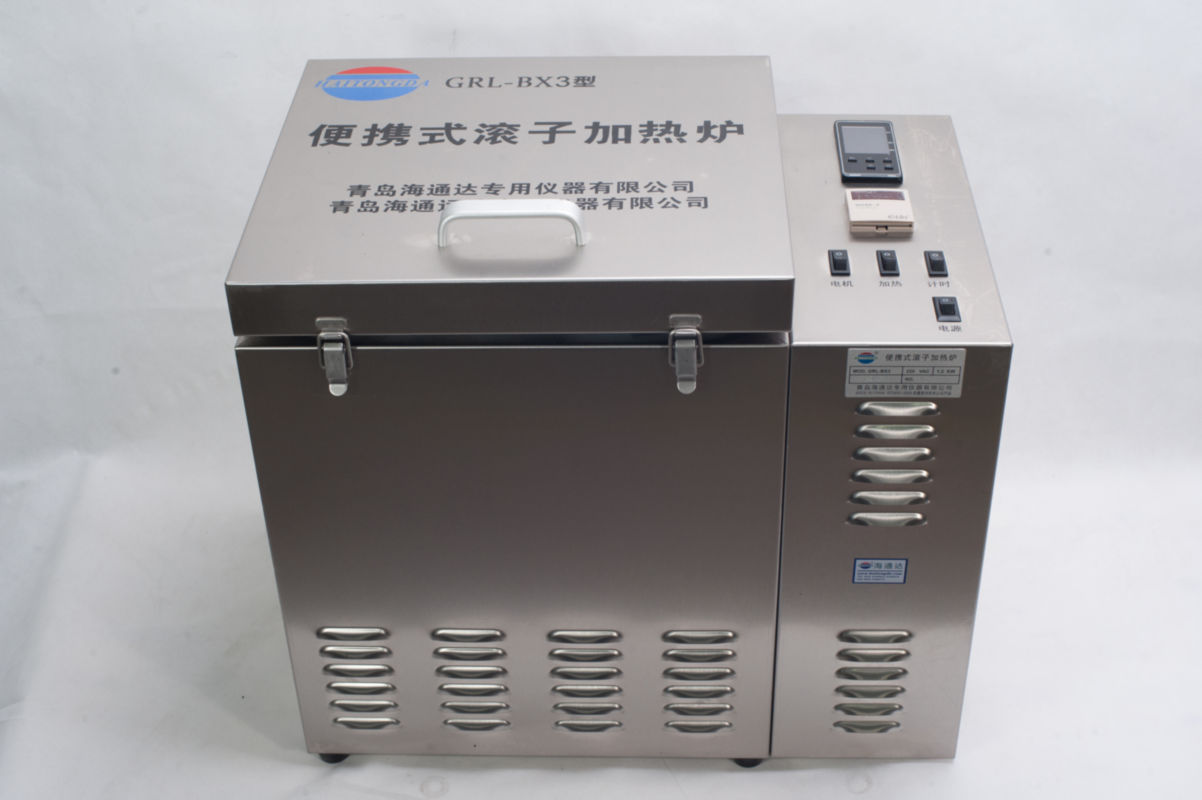 2. Product Application of Portable Roller Oven Model GRL-BX3
Function:
1). Research the cation exchange reaction in newly formulated drilling fluid(e.g. calcium treated drilling fluid).
2). Test the stability of drilling fluid additives (e.g. thinners and organic glues)
3). Used as dry box.
4). Used as aging oven.
5). Used as ball mill
6). Agitate chemical solution
7). Mix liquid or solid material evenly
8). Eliminate gas from gas.
Application:
1). Unpacked roller furnace, should first open the top and around the box cover, exposed at the bottom of the box fixed roller furnace bolts, bolts connected with the furnace body loose discharge, so that the roller furnace removed from the packing box and put in a safe position.
2). Before use, check whether the voltage is consistent with the required voltage. In order to ensure the use of safety, roller furnace power supply should be reliable.
3). Read the instructions carefully and follow the steps.
4). Turn on the power supply and turn on the power switch. The temperature display window displays the current temperature in the heating furnace.
5). Start the motor button, the motor drives the drum in the furnace rotation, can carry on the sample stirring.
6). Make the motor idle for a few minutes, sound, speed normal, in the winter press stop rotation. When the preparatory work is finished, the normal work can be carried out.
3. Type Specification of Portable Roller Oven Model GRL-BX3
| | | |
| --- | --- | --- |
| Model | Name | Configuration |
| GRL-BX3 | Portable roller oven | Aging cell LHG-2/2A(Optional) |
4. Technical Specification of Portable Roller Oven Model GRL-BX3
No.

Technical Specification

1

Power supply

220V±10% 50Hz

2

The input power

700W

3

Heating power

500W

4

Temperature range

50℃~180℃

5

Roller speed

112±5r/min

6

Sample's flow rate in the kettle

0.16 m/s

7

The number of the samples

2

8

Net weight / Gross weight

35.84kg/48kg

9

Overall dimensions

540×340×530mm

10

Packing size

630×450×580mm
5. Company Introduction of Portable Roller Oven Model GRL-BX3
Our company is committed to the R&D and manufacturing of drilling fluid analyzer, oil well cement tester, oilfield laboratory integrated engineering solutions and experimental instrument maintenance services. Over the past 40 years, with the care and support of oilfield users, experts from various industries and engineers and technicians, our products and technologies have been tested by the market making. Haitongda special analytical instruments have grown to world-famous brands. Our company has researched and developed on testing instruments needed in unconventional oil and gas resources, deep water, natural gas hydrate and intelligent drilling, and successively produced a various of new products, such as ultra-HTHP rheometer, drilling fluid online testing system and deep water low temperature drilling fluid testing system, which timely met the needs of technological progress in the drilling industry. At present, we are providing quality services and practical products to more than 3000 customers in more than 20 countries and regions around the world.
6. FAQ
1): Are you a manufacturer or a trading company ?
A1: We are manufacturer.
2): What is your main brand?
A2: Our brand is Haitongda, which is famous in China and other nation. Also we do OEM.
3): What are your business scope and product classification?
A3.Business scope. Mud analysis instrument, electronic products, special instrument, mold design and manufacturing; Instrument maintenance and sales, import and export of goods and technologies.
Product classification including drilling fluid analysis instrument oil ell cement testing instrument and field overall solution, including 22 small categories and over 120products.
4): What is your MOQ for the order?
A4: Testers per 1 set.
5): What is the warranty period of your instrument?
A5: One year.
6): Can l get better offer if our order can be bigger?
A6: Certainly. We will give you better prices based on the quantity for your order.
7): What certificate do you have for your instrument?
Q7: ISO, SGS and so on
8): What is your lead time for our order?
A8: For new order: 3 weeks.
For stock order: 3 working days after T/T. Based on FOB Qingdao.
9): What is your advantage of your factory?
A9: We are the original oil ministry designated drilling fluid analysis equipment manufacturer in China, which was founded in 1968.
10): What is the process to become an agency?
A10: Please send us mail enquiry, then we will reply you as soon as possible.
Hot tags: Portable Roller Oven Model GRL-BX3, Manufacturers, Suppliers, Wholesale, Buy, Factory, Customized, durable, In Stock, Bulk, High Quality, China, Made In China, Cheap, Low Price, Buy discount, Newest, Advanced, Classy, Fancy, CE, ISO, Free Sample, latest selling
Portable Roller Oven Model GRL-BX3 manufacturers
China Portable Roller Oven Model GRL-BX3 suppliers